Victory for fish in Lithuania
In May "IKI" – the 2nd biggest supermarket chain in Lithuania – announced that they are no longer selling live fish. This means that 50,000 animals, mostly carps, will not be sold alive each year.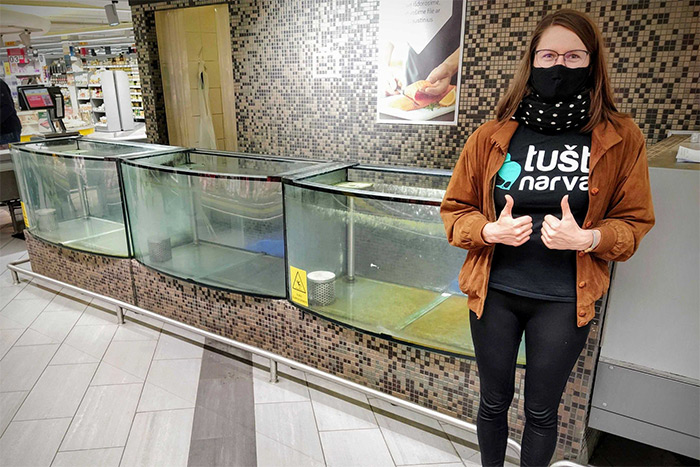 Earlier this year another retailer – "Rimi" – committed to stop selling live fish by the end of 2020.
These results were achieved after 2 years of campaigning for fish in Lithuania.
Tušti narvai, our branch organisation in Lithuania, started a campaign to stop the sales of live fish in May of 2018 by publishing an investigation which documented animal welfare problems in supermarkets. The organization published guidelines on how to report fish welfare problems to the State Food and Veterinary Service and those guidelines were also published in the media. This empowered people to document violations, creating an increase on inspections carried out by officials in shops all around the country.
In 2019, "Tušti narvai" published another investigation which was covered by the media widely and caused representatives of the supermarkets to comment on the practice of selling live fish. The organization launched a petition asking supermarkets to stop the sales of live fish.
Tušti narvai then started negotiations with the State Food and Veterinary Service to make sure they inspect the places in which live fish were sold during the periods when most violations occurred – during Christmas and Easter. They also started negotiations with retailers asking them to stop the practice.
During these 2 years of campaigning, news on fish welfare was covered by the media more than 20 times, allowing to raise even more awareness on the topic.
With over 120 billion fish killed on commercial farms each year, and another trillion caught and killed in the wild, fish have almost no protection. As recent studies show that fish do feel pain and adapt their behaviour accordingly, we must reconsider ways in which we effectively campaign to raise awareness towards their welfare and suffering. Due to this fact, Tušti narvai will continue campaigning to ensure that fish are protected within our society.